Easy Lunches
Hello Dear Love Thy Health-ers,
Yes this is you.
I have been asked to make a list of EASY LUNCH IDEAS that will be added to as we go. Thanks to Megan from Dance Habit Melbourne for the inspiration to do it!
Obviously this is not just about easy. Most Importantly it is about having more energy and vitality in your day and your life. Eating beautiful energy filled whole foods. WE all need more greens and colorful vegetables in our day and this is how to do it.
The key is to use my shopping list below and be ready to build your fabulous plate up with these great foods. If you have nothing the house but a bit of bread, lettuce and cheese, you may find yourself wanting an afternoon nap. That's all I'm sayin' for now.
I would really love you to just notice how good you feel after a week of eating like this. ....and if you don't feel like cooking dinner, these throw together bits of goodness (often now called Buddah bowls) are perfect for both lunch and dinner....and breakfast if you like. You can always put your salads, greens & sprouts in a spare glass jar. Or use a lunch box for snacks when your not sure if you are going out for lunch, so that you always have healthy options especially when the afternoon sugar cravings happen. In the afternoon go for a small palm of nuts, seeds and a cup of instant miso soup.
Enjoy!
TRUSTY SALAD DRESSING:
Make this easy salad dressing to keep in the fridge for your salads.
1/2 cup apple cider vinegar, 1/2 cup cold pressed olive oil, 1/4 cup flax seed oil, 2-3 pinches Maldon or Celtic Sea Salt & black pepper plus a clove or 2 of garlic.
*Keep this dressing in a jar in the fridge for use on salads daily. Apple cider vinegar is known to help reduce cholesterol, stimulate digestive enzymes and increase thermogenisis - increasing fat burning.
YOUR SHOPPING LIST
- Keep these items in da house and buy organic where possible.
Our family buys a large organic box of veggies every week and eat it all. - no waste and no packaging.
(Note you may have an organic veggie co-operative in your area - Google-'organic veggie co-operative')
Green dark leafy lettuce mix or a bag of rocket or baby spinach. Alternate this weekly.
1 Cabbage purple or green
Carrots, cauliflower & beetroot - for grating & dipping
Green fresh beans - eat them raw & dip them in hummus
Sprouts; lentils, chickpeas, peas, mung beans & any other sprouted legumes
Eggs - organic & free range
Oily fish - salmon, mackerel, tuna, sardines, anchovies (tinned or leftover)
Nuts - walnuts, almonds, sunflower & pumpkin seeds. (not peanuts)
Hummus dip
Falafel balls. Freeze fresh from Turkish shop or from supermarket fridge. Choose those with no preservatives.
Organic spelt or rice crackers (specialty health food shop bought)
Miso soup - Sprial brand is organic. You can buy a tub of miso paste & divide for work into a jar.
Sauerkraut recipe here & Kimchi (do not buy the supermarket one off the shelf, purchase from in the fridge section at the health food shop)
Keep In the Freezer - falafel balls, left over soups, left over stock, casseroles, bolognaise sauce.
PUTTING IT TOGETHER LUNCH IDEAS
MIXED GREENS WITH PROTEIN OF CHOICE - 2 EGGS POACHED OR BOILED or SALMON LEFTOVERS or TINNED TUNA or 1 LAMB OR BEEF CHOP. Add trusty dressing, a dollop of hommas, sprouts & sauerkraut.
LEFTOVER BOLOGNAISE WITH SPINACH - So you cooked spaghetti bolognaise (meat or vegetarian option) last night or you have a portion in the freezer and don't want to eat pasta. - Just add the steaming sauce to a big bowl of baby spinach leaves instead of pasta. Add Maldon or Celtic Sea salt, freshly ground black pepper, Parmesan cheese & VOILA! YUM YUM YUM. Full of energy, magnesium ... I could go on!
YUMMY CABBAGE & BITS - thinly slice some cabbage. Add a blob of hommas, sprouts, walnuts & homemade sauerkraut. Add trusty dressing. Add palm sized protein of your choice.
HOMMUS & FALAFEL BALLS - Add in some crispy raw green beans & carrots sticks too.
LAST NIGHTS SALAD - so last night you grated carrot and fresh raw beetroot and made a tasty salad with an orange squeezed on top as the dressing and you made double, right? Well you can have that with a palm sized portion of protein of your choice. eg: 1 left over lamb chop, 1 piece of chicken, 1 small palm size of fish, 1/2 cup of dahl or 1/2 cup of chickpeas or lentils cooked or from BPA free a can. https://www.choice.com.au/food-and-drink/food-warnings-and-safety/plastic/articles/bpa-in-canned-foods
KIMCHI OR SAUERKRAUT WITH EGGS A bed of baby spinach leaves, two poached eggs. Just add kimchi.
EASY KIMCHI SOUP - Poach 1-2 eggs, add eggs with the boiled water to a large bowl, add miso paste or sachet, thinly slice white cabbage, add extra fish sauce & chilli to taste. - voila! you have an instant Asian soup. - Delicious!
Share the love with friends & email me your ideas Christine@lovethyhealth.net
Tuna Rocket Salad
Tuna, rocket, avocado, sprouts and my homemade olives & sauerkraut.
Vegetarian Salad
Vegetarian salad with; leftover pumpkin, raw mushrooms, peas, leafy greens, cucumber, goats cheese, nasturtiums with trusty salad dressing.
Poached Egg Salad
2 poached eggs on a bed of mixed greens, hummus dip, left over roast veg, sprouts & sauerkraut. Plus trusty apple cider vinegar, olive oil dressing. EASY! - see the shopping list for essential items to keep at home.
Mango Salmon Salad
Salmon, mango, pomegranate, spinach, cabbage, Maldon salt, pepper & trusty salad dressing.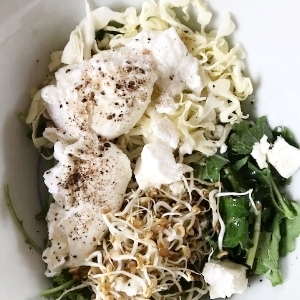 Variation Poached Eggs on Rocket & Cabbage
2 poached eggs on a bed of rocket & sliced cabbage. Add any sprouts, trusty apple cider vinegar dressing from the cupboard, salt & cracked pepper. EASY! - see the shopping list for essential items to have at all times.
Salmon Rocket Salad
Salmon strips, rocket, tomato & trusty dressing.
Falafel Balls
For those of you who don't have to to cook these, they are available in the fridge section of most supermarkets. Just look for the ones with no preservatives (no numbers in the ingredients on the pack).
You can also purchase from a Middle Eastern type food outlet and freeze from fresh.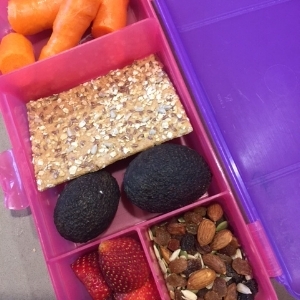 Healthy Snacks Box #1
Carrot, spelt cracker, avocados, strawberries, nuts, seeds & sultanas.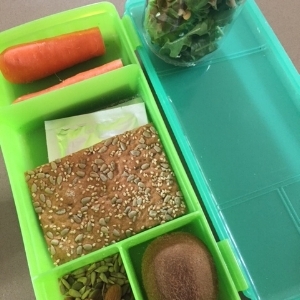 Healthy Snacks Box #2
Carrot, Mixed salad and sprouts in ajar, Spelt Crackers, Spiral brand miso soup sachets, Kiwi, Nut & seed mix
Bolognaise Sauce & Baby Spinach
Add your bolognaise sauce to a bed of raw baby spinach, steamed silver beet or rocket. Easy. just don't have the pasta tonight and see how good you feel!
Sauerkraut – Basic Recipe
Sauerkraut – Basic Recipe
[Recipe adapted from Sally Fallon's Garden of Life]
Sauerkraut - Why is it good for us? In Germany and Poland, sauerkraut is fervently consumed daily as it is known for its ability to support digestion by feeding beneficial gut bacteria. In Korea it is kimchi. The proliferation of lactobacilli produced in this fermentation process also enhances the digestibility and vitamin levels of vegetables, supports our immune system helping us to fight infection.
One more thing…sauerkraut & kimchi (recipe to come soon) is so much more fun to make with friends!
 
You will need:
• Several clean glass jars with lids & 1 pestle or wooden mallet
•1 organic cabbage Medium sized (1kg) (I love red cabbage. Green is ok too.)
•1 tablespoon good quality sea salt
•4 tablespoons of Kefir whey (you may use already fermented sauerkraut for an inoculant or simply add another tablespoon of salt.)
•1 tablespoon of caraway seeds.
 
Germans have always sliced the cabbage with a specially made machine and pounded them with a wooden mortar in a large crock to bruise the cell walls. I like to cut thin slices by hand. It all depends what texture you would like to achieve.
 
Grate cabbage with a hand grater or process in a food processor, or slice thinly by hand, then mix in a large food grade plastic bucket with the salt and Kefir whey. Leave for 15-20mins and have a cup of herbal tea.
Pound with a large stone pestle or wooden pounder of some kind, until the juices start to come out of the cabbage. I also like to squeeze the cabbage juice out with my hands. (Kids love this process too!)

Press the mixture into a clean glass jar using a wooden spoon. Press firmly until the juice rises to the top and covers the mixture, which it will do when it is pounded enough. Leave at least one inch or more of space at the top of the jar to allow for expansion. Add ½ a leaf of cabbage to hold down the sauerkraut.

Cover the kraut and store the jar in a cupboard for 3-5 days (depending on the ambient temperature) before transferring to the refrigerator. The sauerkraut may be consumed after a couple of weeks, though if you allow the fermentation process to continue for a month or so in the refrigerator.
As with all fermenting, follow your nose. If it smells putrid or you have any doubts about the quality, then discard the sauerkraut and start again.
Happy sauerkraut-ing!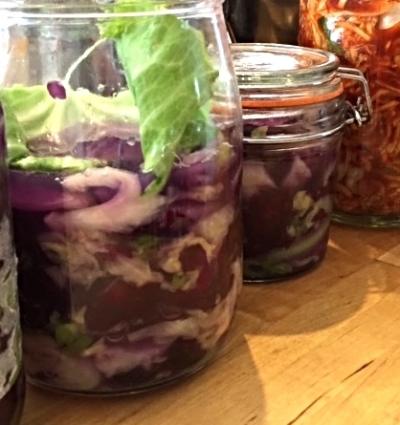 Immune Boosting Recipes
These recipes are all tried and tested by me... yum yum yummy!
Apple Cider Vinegar Drink
4-7 peeled and lightly mashed cloves of garlic
Equal parts ginger
2-4 cups of water
1/4 cup of apple cider vinegar
1 lemon
honey to taste
(Ingredients may be adjusted to your taste)
Cayenne pepper to taste
Simmer the peeled and mashed garlic and ginger in 2-3 water for 10 minutes-you can use more water if you like a more diluted flavor. Strain and add apple cider vinegar, the juice of 1 lemon, and 3-4 teaspoons of honey.
Drink 2-3 times daily as needed. Add cayenne.
This will keep in the refrigerator for up to 5 days, and can be gently reheated on the stove top.
REMEMBER REST is BEST
Chicken Bone Broth
1.5kg bony chicken parts (necks, backbone, breast bone & wings)
2-4 chicken feet (optional)
2tb apple cider vinegar
1 large onion
2 carrots
3 celery sticks
2 leeks (white part only)
1 whole garlic bulb – cut in half
2 large handfuls flat leaf parsley
1 tbsp peppercorns – lightly crushed
Recipe may be halved if using slow cooker
Method:
Place chicken in pot or slow cooker and add 5 litres of water, apple cider vinegar, roughly chopped – onion, carrot, celery & leek, garlic and peppercorns
Leave to stand for 30mins -1hr
Bring to the boil, continuously skimming off any formed skim and foam from the surface of the liquid
Reduce the heat to low and simmer for 6-12 hours
The longer, the more the flavours will develop, allow to cool and strain, cover and refrigerate
Remove the fat from the top of the stock once formed
Keep for up to 1 week in fridge or 3 months in freezer
Use chicken stock for a base for other meals where required or as a revitalising "cup of bone broth" (see below)
A Cup of Bone Broth (A healthy gut supporting snack)
350ml chicken bone broth(see recipe)
1tsp turmeric ground
1 pinch cumin ground
1.5 – 2tsp lemon juice
Sea salt/pepper to taste
Broth recipe from Nicola Pilion - Naturopath
Organic Chicken Congee
This recipe is based on Chicken Congee by Stephanie Alexander. Its is so delicious and can be kept in the fridge for a few days to dip into. -Excellent for fussy children as they can have the greens, chicken or rice separately. Perfect during convalescence after sickness as the broth gently heals and nourishes. We add a big bowl of broccoli or any vegetables we have in the fridge to on top of the rice pot for steaming at the end.
Serves 6
1 organic chicken
2 liters organic chicken stock (see bone broth recipe below)
2 tbsp organic coconut oil
2 cups organic short or medium grain brown rice, rinsed
1 red chilli, seeded and finely sliced
3 spring onions, finely sliced on the diagonal
Large Bunch of Asian broccoli
Dipping sauce (optional for children but very yummy)
1 clove garlic
1 small red chilli, seeded
1 tsp organic brown rice syrup or sugar
2 tbsp rice vinegar
3 tbsp organic tamari
3 tbsp water
juice of ½ lime
Place chicken in a large pot and cover with stock. Bring to a boil and then turn heat down and poach on a very low simmer for 45 minutes or longer. Cool chicken in stock for 10 minutes before removing from pan. Set chicken aside to cool and save stock.
Heat oil in a large saucepan and fry rice for a few minutes. Pour in poaching liquid, from chicken, bring to a boil and then turn heat down to very low. Cover and cook gently for 20min or 1 hour depending how you like it or until rice is extremely soft. In last 10 mins place Asian broccoli (or veggies of your choice) on rice to lightly steam with lid on.
While rice is cooking make the dipping sauce by pounding the garlic and chilli in a mortar and pestle, and then stirring in the rest of the ingredients.
When the chicken is cool enough to handle, remove and discard the skin and bones, and shred the meat.
To serve put some shredded chicken in each bowl, ladle in some rice and broth, and then
top with some sliced chilli and shallots. Add a few spoons of dipping sauce to taste.
http://www.stephaniealexander.com.au
Mushroom Immunity Soup
Mushrooms such as reishi, shiitake and
maitake have compounds in them that are excellent for boosting immunity. These compounds help protect us from bacterial and viral infections and cancer and tumour cell formation - So use mushrooms regularly in your diet to keep you healthy!
Ingredients
1 tablespoon virgin coconut oil
1 large onion, diced
3 cloves garlic or more, chopped
1 cup of reishi, shiitake or maitake mushrooms, or combination
2 cups of either Swiss brown mushrooms, Portobello or button mushrooms
1 – 2 sprigs each of fresh rosemary, thyme, parsley, basil, oregano
1 fresh chilli or more, chopped
1 cup whole cooked buckwheat or barley (optional)
Enough stock or just water with sea salt to taste to cover vegetables
Method
Melt coconut oil over heat and add finely diced onion and sauté til translucent.
Add garlic and sauté for 1 minute, if using chilli add at this stage also.
Add in chopped mushrooms and sauté for 1 – 2 minutes to soften slightly and bring out flavour.
Add enough water to cover vegetables and add in chopped herbs at this stage, reserving a small amount to use as a garnish.
Cook until mushrooms tender, once cooked, blend with stick blender to smooth consistency or leave chunky depending on preference.
To make soup a heartier meal, add in 1 cup of cooked buckwheat or barley.
Serve with remainder of chopped herbs on top and a slice of sourdough bread or brown rice noodles could be added. Or add miso to bowl.
Lentil Soup - Quick & Easy
I love this & yes my kids do too! It is actually one of their favourites.
2 x 400g cans of cooked organic lentils rinsed and drained
1tbsp. oil – ghee (or coconut oil)
1 onion
2 cloves garlic
1tsp cumin seeds
Optional spices: 1tsp ground coriander, 1 tsp fresh turmeric (or powdered)
1 liter homemade vegetable broth (or organic chicken bone broth see below)
4 medium carrots chopped, as you like with skin.
2 celery stalks chopped
4 large kale leaves finely chopped
Sea salt and ground black pepper to taste
Fresh chopped coriander (optional)
Optional vegetables you may like to add: green beans, silver beet, sweet potato.
Rinse tinned lentils and put aside.
Add oil to large saucepan; gently fry cumin and other spices until flavour is released. (It should smell great!)
Add garlic and onion cook & cook until tender and just starting to brown.
Add water or vegetable stock. Bring to boil then, reduce heat, add lentils and vegetables except kale.
Once vegetables are tender, add chopped kale and replace lid until it has softened (5-10mins).
Serve with fresh coriander, salt and pepper to taste.
Hearty Whole Mung Bean Soup
Servings: 6Really easy to make, takes some time to cook. Just cook a big batch and put in the freezer for work lunches.
2 cups whole mung beans, picked over, washed, and drained
4 cups water
4 garlic cloves finely minced
2 chillies, finely chopped (seeds removed, if desired)
½ onion finely chopped
2 tablespoons olive oil
3 cups Massel stock
3 large handfuls of spinach chopped
Celtic Sea salt and cracked black pepper, to taste (I don't find it needs much)
Optional: carrot, celery or kale.
Directions:
Total Time: 1 1/4 hr
Place beans in a large pot and add 4 cups water; bring to a boil.
Reduce heat to a simmer and cook for approximately 30 to 40 minutes, or as long as needed until the majority of the beans pop their skins and the water is absorbed (if your water cooks out and the beans are not cooked, simply add more water as needed and continue cooking until beans burst; it is better to overcook than undercook, but in any event, continue cooking until the water is all absorbed).
Meanwhile, sauté garlic, chilli and onion in olive oil until the onion softens, about 5 minutes; set aside.
When the beans have burst and the water has cooked off, add the chicken stock to the beans and bring to a boil.
Add the onion mixture, ham, and spinach to the pot; reduce heat and simmer for 15 minutes.
Season with Celtic Sea salt and organic cracked black pepper.
Recipe adapted from: http://www.food.com/recipe/hearty-whole-mung-bean-soup-114716#ixzz1DPYeLAEz
Red Lentil & Vegetable Dahl
1tbl coconut oil or ghee
1 medium brown onion, roughly chopped
2 garlic cloves, finely chopped
1tbl cumin seeds
1tbl turmeric powder
1 cup dried red lentils, rinsed, drained
1/3 of a butternut pumpkin cubed
2 medium carrots
Water (enough to cover the lentils and vegetables plus 1cm)
1/2 cup fresh coriander leaves
Sea salt to taste
Heat oil in a saucepan over a medium heat. Add onion until clear and then garlic for 1-2 min. then add spices. Cook for 2 mins until fragrant. Stir through carrot and pumpkin and cover to sweat for 4 mins. Shake the pot without lifting lid.
Add rinsed lentils and water. Bring to the boil. Reduce heat to lowest setting. Simmer, partially covered, for 30 minutes or until lentils have softened. Cook, uncovered, stirring occasionally, for 20minutes or until thickened. Add a little water if necessary. Remove from heat. Stir in spinach. Add salt to taste. Serve warm with coriander and chilli powder to taste. Enjoy!
Christine is available for naturopathy, nutrition & herbal medicine appointments:
Western Health Collective 9687 5670 ONLINE BOOKINGS
Private Practice West Footscray0409 027 221 ONLINE BOOKINGS
Proudly servicing Melbourne's West: West Footscray, Yarraville, Seddon, Kingsville, Maribyrnong & Point Cook.
Chicken Congee Soup
Breakfast Ideas
Quinoa porridge.
1 cup cooked Quinoa equals 8g protein.
(15min
Tip: you can make double or triple the night before and keep in the fridge for a quick & instant breakfast in the morning.
Ingredients
1 cup of organic quinoa (soaked OR thoroughly washed)
2 cups of liquid (your choice or coconut, almond, soy or water)
Combine quinoa and milk in a small pot.
Bring to the boil then gently simmer on low with the lid on for 15mins. (the little white dot in the grain will disappear once it is cooked)
Add whatever goodness you like: cinnamon (great for blood sugar regulation), nutmeg, yogurt, berries, fruit compote or maple syrup. YUM!!
Easy Overnight Oats
By Emily Fraser
Ingredients
1⁄2 cup rolled oats (gluten-free if desired)
1 teaspoon chia seeds
4–5 dried apricots, unsulphered.
2 tablespoon almonds
1 apple, cored
1 cup unsweetened almond milk + 1⁄4 cup for the next morning, if desired (or yoghurt of choice)
2 tablespoon unsweetened, shaved, coconut
Instructions
Combine all ingredients in a Thermomix or food processor. No more than 5–10 seconds is required.
Spoon into mason jars or sealable containers.
Place in the refrigerator overnight or for at least 6 hours.
In the morning add additional almond milk or a spoon of yoghurt of choice to give it more of a cereal consistency or eat as is.
Top with your choice of seasonal fruit, like apricots or raspberries.
Thai Fish Cakes
Thai Fish Cakes
Adapted from Taste.com.au without the processed stuff
500g firm white fish fillets (such as snapper or flat head), coarsely chopped with bones removed
1/2 cup fresh coriander leaves
35g (1/4 cup) of rice flour
2 tablespoons of tamari
1/4 tsp sweet chili fresh
1 egg, lightly whisked
3 green shallots, finely chopped
50g green beans, finely chopped
80ml (1/3 cup) coconut oil
Lime wedges, to serve
Salad
Baby spinach leaves or salad leaf mix
Trusty grated fresh raw beetroot & carrot
2 tablespoons olive oil
2 teaspoons fresh lime juice or Apple cider vinegar
Place the fish in the bowl of a food processor and process until smooth. Add the coriander, flour, chili, tamari and egg, and process until well combined.
Transfer to a large bowl. Add the shallots and beans and stir until well combined. Heat the coconut oil in a large frying pan over medium heat. Place 4 egg rings in the pan. Divide the fish mixture into 8 equal portions. Press 1 portion into each egg ring. Cook for 4 minutes each side or until golden. Transfer to a plate lined with paper towel. Repeat with the remaining fish mixture, reheating the pan between batches.
Meanwhile, to make the salad salad. Combine salad bits in a bowl and drizzle with olive oil and either the apple cider or lime juice.
Serve. Voila!
http://www.taste.com.au/recipes/17143/thai+style+fish+cakes